ST BARTS
Tulum Mexican Equipale Bar Stool
SKU: 59848
Sale price

$595.00

Regular price
Tulum Mexican Equipale Bar Stool
Authentic Rustic Charm: Tulum Mexican Equipale Bar Stool Introducing the St Barts Tulum Mexican Equipale Bar Stool – a rustic marvel that transports the warmth of Mexico to your space. Whether it's your kitchen counter, servery, or bar, this bar stool effortlessly infuses your interior with authentic Mexican flair.
Features: Handcrafted Pig Skin Seat:
Experience comfort on the pig skin seat coated with a semi-waterproof finish, ensuring both style and durability.
Cedar and Rosewood Construction:
The seat is supported by cedar strips and rosewood planks, reflecting skilled craftsmanship.
Brass Studs Detail:
Brass studs accentuate the rustic charm, adding character to this unique piece. Ages Beautifully: Designed for durability and minimal maintenance, this bar stool ages gracefully, developing a unique patina over time.
Generous Comfort and Footrest:
Enjoy generous seating paired with a comfortable footrest, designed for your relaxation.
Honouring Tradition Through Craftsmanship:
Immerse yourself in the authenticity of traditional Mexican craftsmanship, reflecting time-honored practices.
This bar stool is handcrafted, creating a truly unique and rustic piece that pays homage to Mexican heritage. Originating from Mexico, its dimensions ensure a comfortable seating experience while the rich history embedded in its design brings cultural richness to your space. Elevate your interior with a touch of rustic elegance that comes straight from the heart of Mexican artistry.
Origin:Mexico
Dimensions: Total Back height: 105cm Seat Height: 76cm Total Depth 50cm Seat Depth 45cm Total Width 55cm
Materials: Raw pigskin, cedar stripes, rosewood planks, leather detailing and brass studs Origin: Mexico 
Dimensions: Total Back height: 105cm
Seat Height: 76cm
Total Depth 50cm
Seat Depth 45cm
Total Width 55cm
Description: This unique rustic leather furniture is all handmade in the authentic traditional Mexican craftsmanship. This range blends rustic details with an organic shape, making it a special piece for any space in the home. Since each piece of Equipale furniture is handmade from centuries-old tanning and dyeing techniques and all-natural raw materials, expect slight variations in colour and size. 
Cleaning guide:
The Equipale chairs are known to be very durable and require little maintenance as the natural beauty of this piece is how it ages. To keep the pigskin soft and clean you should follow these guidelines. The pigskin has been coated with a semi-waterproof coating so most liquids will bead up sitting on the surface of leather. All liquid stains should be attended to immediately using a dry cloth or micro cloth to remove the liquid. General cleaning we suggest using warm soapy water, using a mild detergent or high-quality leather cleaner. Do not use cleaners containing alcohol, acetone or bleach. Do not use excess water on the surface. You may also like to hydrate your surface using a high-quality leather moisturizer. Like all real hides, the leather will age over time particularly in areas of high traffic on the arm and pad of seat. This is a natural ageing process and is what makes these pieces so special. 
The chair including the cedar base should be wiped down regularly to remove any access dust so it does not become embedded in the furniture.
If leaving these pieces outside we do suggest maintaining the surface and keeping the skin as dry as possible and cleaning the surface every month. As well as using a leather hydrating cream to retain the colour and softness of the pigskin. Constant heat can harm the leather. Similarly, direct sunlight can bleach the colour of the pigskin if you leave it in the sun for extended periods. Keep it in an area sheltered from sunshine.
Delivery Times
Standard order processing time is 3 – 7 business days.
While we aim to get your order delivered to you within 5 – 10 working days, in the unlikely event of extended delays, we will endeavour to inform you. Any questions or follow up regarding delivery can be directed by email to info@st-barts.com.au.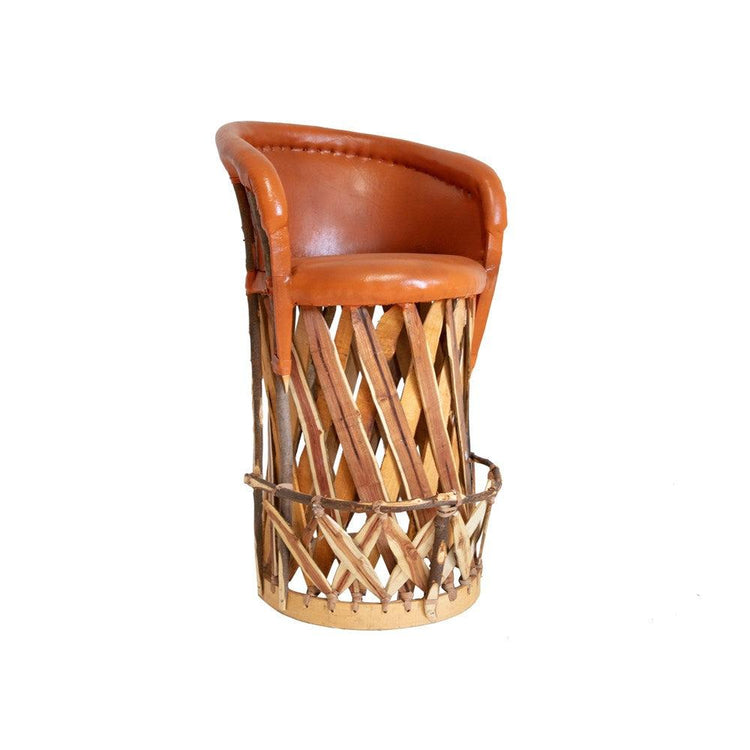 ST BARTS ETHOS
we are collectors & curators celebrating craftsmanship of global artisans, where every piece of fashion, decor, art or furniture tells a story.